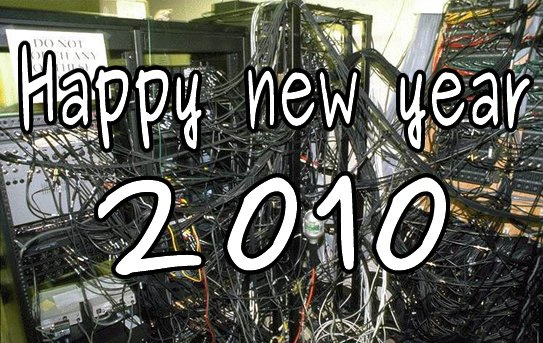 Goodbye 2009; hello 2010!
A new year begins, and with it a new decade! We are seeing the beginning of another 10 years of misery. But look on the bright side; it's the Year of the Geek! In Roman numerals, 2010 is written "MMX"; a chilling reminder of that disgustingly antiquated multimedia instruction set for our microprocessors.
On the Folding@Home side of things, 2010 is already loaded up with announcements. We should fold our first SMP2 WU; our GPUs should abandon CUDA and Stream in favour of OpenCL; and the GPU2 client will be done away with in favour of its GPU3 successor.
The method of calculation popularised by Gromacs will make an ever more important impact on the newcomer that is Protomol, allowing for significant gains in performance. If we are fortunate, and all goes well, then the V7 client will also be launched with a very productive and not horrifyingly lethal bang.
On the hardware side, the Core i3 will replace the good old Core2 Duo as Intel's entry level processor of choice, with fairly significant gains in sight. nVidia should at long last begin a market rollout of the GT300 Fermi, which if you will recall was trumped as the holy grail of GPGPU technology, but like the holy grail, finding it on the market has been fruitless, owing to internal delays at nVidia.
In short, prospects are very bright all around. It will be a year full of major changes, and more than ever, our machines will work for the cause that we have taken up: the study of protein folding.
For FAH-Addict, 2009 has been a year of consolidation. The site is still very young, but we are intent on providing news on not just the Folding@Home project, but also on the wider technological field, so we may provide you information on what hardware is best suited to use with the Folding@Home software.
We will do everything we can to find partnerships with various hardware manufacturers, but also with all those who wish to lend their support.
FAH-Addict is not fixed or unchanging; we aim to serve the Folding community and to meet your expectations. Please do not hesitate to send us your ideas, contributions, comments,
insults, hardware, life savings, grandmother, spare internal organs, sisters, credit cards, breast implants, sanity, soul, unswerving loyalty to the forces of Hell
or general feedback...

A very happy New Year 2010 to all!
The FAH-Addict.net Team:
Adams, John, Julien, Kay and Thomas