Folding@Home 7.3.6 final released, a new website and a video !
There is another revolution at Stanford : after a resoundingly successful release of v7 client and the complete website redesign, the 7.3.6 client is starting a new approach, aimed at simplifying the client for potential new donors. This release comes together with a new site design and a promotional video.
The client
The following main features have been announced by client developer, Joseph Coffland:
Web control interface added
Control buttons removed from FAHControl interface
Simplified installation

For the time being we haven't been able to test these new features, but we'll take a closer look.
The website
This is again a big change : the three frames which were part of the already simple interface are gone, replaced by a new home page completely dedicated to education with an animation oriented graphic style.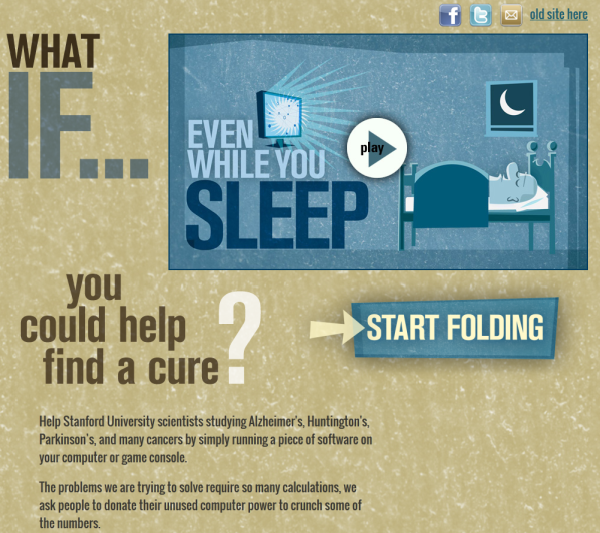 The website also emphasizes social networks (well yes, we're not alone

)
The text emphasizes the principles of protein folding, the opportunity to participate and introduces the network machines (us

) already in place.
The video
To complete this release, a Youtube video has been posted to introduce its audience to the implication of misfolded proteins in a huge variety of diseases, and it explains how to participate in finding cures for them !
Let's communicate !
Stanford has offered us great tools to promote the project more easily, the time has come to recruit. Your family, your friends, the forums and the online communities you're involved in might be interested ! It would be a shame not to enjoy this beautiful dynamic !
Main source :
Vijay's blog