Core A6 appears with three new projects: p3865-3867
Michael Shirts
has released a new series of projects, p3865-3867, which use a new core dubbed A6.
This core is based on the a4 core, but has some additional scientific code which makes units requiring it incompatible with the a4 core. As the rest of the core is identical it is not expected that there will be any issues with this new core. This core is capable of running in both uniprocessor and SMP mode, but the latter will only work with v7 clients.
Projects 3865-3867 study the interaction of around 500 ligands with
Trypsin
, a digestive enzyme found in the pancreas used to digest proteins. It is often used as a standard when designing new drugs. These projects are just part of a challenge to design new drugs, which asked scientists to predict which molecules from an initially provided list were most likely to bind to the target protein.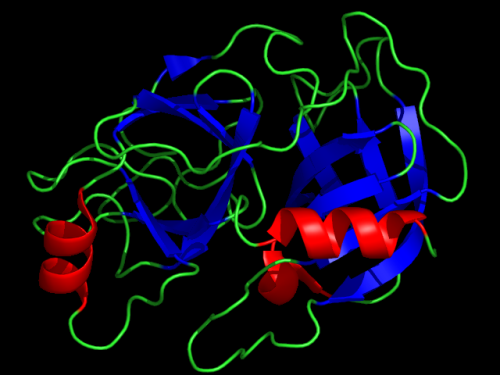 Crystallographic structure of Trypsin
These projects are distributed from the server at
128.143.48.226
and have the following characteristics:
28,851 atoms
333 points
7 day preferred deadline
12 day final deadline
Bonus factor of 0.72

These projects are distributed to clients with -advmethods for now.
Source :
Official Forum