Critical security flaw in Windows 7 and Server 2008!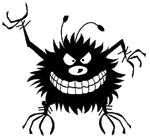 Bugs! There have been a couple of Linux security vulnerabilities reported in the last week or two, but now it's Microsoft's turn to admit that Windows 7 and Windows Server 2008 R2 are victims of an extremely serious security flaw which allows an attacker to freeze the machine remotely!
The operation is carried out by repeatedly sending a corrupted netbios header in an SMB package ("Samba protocol" for Linux users). The kernel freezes the machine, without showing BSoD... and the logs show nothing after a reboot.
If widely used by a worm virus, this could completely paralyse any computers running Windows 7.
A patch will soon be released via Windows Update. Meanwhile, to avoid attacks, it really is no panacea, just common sense. Be sure to limit your firewall to the bare minimum ports necessary, and pay close attention to unsafe machines connected to your LAN.
Source:
Laurent Gaffié's blog