First Gigabyte HD5770 on sale

Gigabyte's new ATI HD5770 has been spotted for sale in an Australian retail store, priced at AUD $262.90, €158 and £146.43.
From what we have gathered, the specs are as follows:
1GB GDDR5 (1100MHz) on a 128-bit BUS
GPU clocked at 825 MHz at 40nm with 960 SP, 40 TMU and 24 ROP for a total of 1.3 billion transistors
a total TDP of 100-120W at load, and 15W idle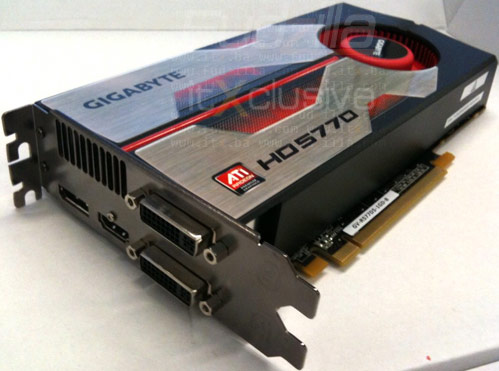 Additionally, it features 2x DVI; 2x HDMI; and 2x DisplayPort. The DisplayPorts would appear to be becoming standard on new ATI-based cards.
European prices are expected to be in the €130 to €150 range, in contrast to the generally
murderous
more costly Australian pricing schemes.
Unfortunately, we must wait for the GPU3 OpenCL client before being able to (hopefully) fully enjoy the potential of these cards on the Folding@Home.