eVGA announces a motherboard supporting 4-way SLI with 7 PCIe 16x ports!
Want to fold more?
eVGA is offering a new motherboard: the X58 Classified 4-way SLI. It's very simple: x58, 7 (for single slot) 16x PCI-e ports, all compatible with 4-way SLI, or 4 (double slot) cards for folding!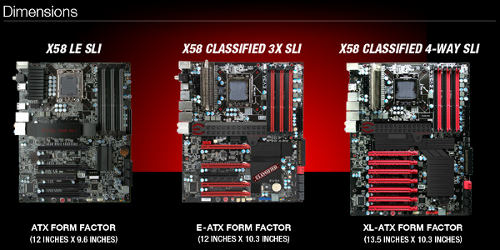 The regulars will retort that only 3 dual-slot cards can be installed in a normal case, not 4.

This board also introduces a new form factor: XL-ATX. This is E-ATX with an extra 1.5 inches of space at the bottom of the board for the fourth card.
Source :
PCI