Intel Core i5 670 Dual-core with IGP: $284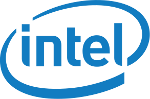 Intel will be unveiling their Arrandale and Clarkdale processors in early 2010. These dual-core processors feature a 32nm die, and include both hyperthreading support and an integrated 45nm IGP core. Click
here
for our earlier article on Clarkdale.
The speediest of the desktop processors will be branded Core i5 670; the Clarkdales will sell at around $284 each, though bear in mind that this is the wholesale price for 1000 units, however the retail price is likely to be fairly similar.
The processors support Turbo mode, so will have the ability to run clock frequencies in excess of 3.46GHz. The socket interface is LGA1156, and the onboard cache stands at 4MB. The advent of these Arrandale and Clarkdale processors would appear to herald the beginning of the phasing out of the 65 and 45nm Core 2 Duo versions.
Source:
Fudzilla
Contributor:
KaySL