The king of AMD's jungle: the Leo Platform

AMD has previewed the transition from its Dragon platform to the new Leo platform in April 2010.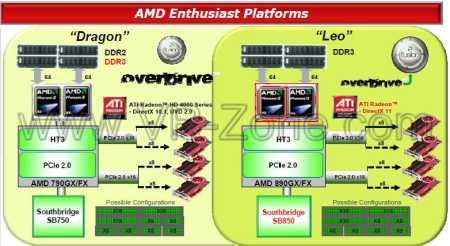 The new platform should feature AM3 processors manufactured on a 45nm process which will be released next year, with the AMD FX/GX890 northbridges and SB850 southbridge. The Leo platform will incorporate new DirectX 11 graphics cards, namely Helmlock and Cypress (Radeon HD5800).
The new chipset will also support important new features such as improved CrossFire performance, support for AMD's Stream and the platform-agnostic OpenCL, and facilities for overclocking with AMD Overdrive and Fusion II. It will also have special memory profiles for Black Edition processors. The motherboards in this platform will support SATA3 (6GBps) and USB3.0 and will feature Broadcom networking.
Source :
VR-Zone