First benchmarks of Opteron 6000 series

AMD will introduce the Opteron 6000/Magny-Cours series of processors in the first quarter of 2010. These processors will form the foundation for AMD's new professional/server platform called Maranello.
The Opteron 6000 is two Istanbul dies sandwiched side by side, connected by a 6.4GT/s HyperTransport link. They will use the new Socket G34, which will have 4 DDR3 channels (2 per die), and 12MB of L3 cache, although 2MB will be reserved for the intra-CPU HyperTransport link (dubbed "HT-Assist").
These new processors already exist in working form. The prototype tested by PC World and Matbe, runs at 1.7GHz, which seems quite low compared to actual processors, but it should be much quicker in 2010.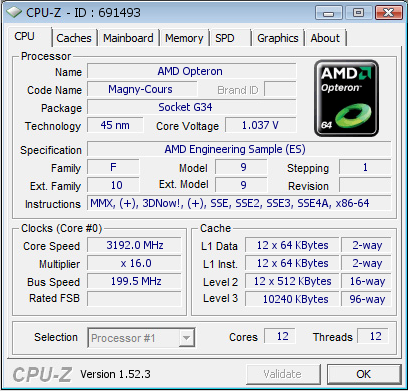 Magny-Cours at 3.2GHz!
Their margin for overclocking seems interesting since the test CPU shown has reached 3.2GHz, and the fastest processor sold by AMD is clocked at 3.4GHz.
All of this bodes well and would suggest that when they are released these processors will be excellent for Folding@home, assuming these frequencies become commonplace.
Contributed by:
Sun Fact
Source :
PCWorld & Matbe
(in French)