Intel's Pine Trail platform to be released in 2010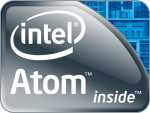 Originally scheduled for late 2009, the Intel Atom N450 is now going to see the light of day in the first quarter of 2010, at the same time as its big brother, the N470.
The current Intel Atom platform (N2x0 and N3x0 series) is a system comprising 3 chips: the Atom processor, northbridge, comprising the memory controller and graphics, and southbridge, which handles I/O. Pine Trail simplifies this by combining the CPU and northbridge onto one chip, much like the LGA1156/P55 platform for Core. As a result of comprising only two chips, this is expected to significantly decrease the power consumption of the Atom platform.
The Atom N450 and N470 will be clocked at 1.66 and 1.83GHz respectively, and will have onboard memory and graphics controllers. Nevertheless the consumption of the chip is reasonable at a quoted 6.5W. If this is put in the context of the current platform, at 4W for the N230 and 8W for the N330, and above 25W for the i945 northbridge, the gain is enormous. This bodes well for mobile machines based on Pine Trail.
Do not expect great performance in Folding@home, as the Atom processors are still designed primarily to save energy rather than for performance. It should still be possible to fold on these machines however, provided they are run 24/7.
Source :
Clubic
(in French)