AMD launches an Istanbul Opteron with 40W ACP

AMD launched today its Opteron 2419 EE (Energy Efficient) processor designed for servers with two processors.
The Opteron EE has an average power consumption (ACP) of only 40W. The 2419 EE is manufactured on a 45nm process and uses Socket F (Socket 1207). It runs at 1.8GHz, with 6MB of L3 cache and a Vcore of 1.125V. This processor has six cores (using the Istanbul architecture), with AMD-V (virtualization) and AMD-P (power management) technologies. It will cost US$989.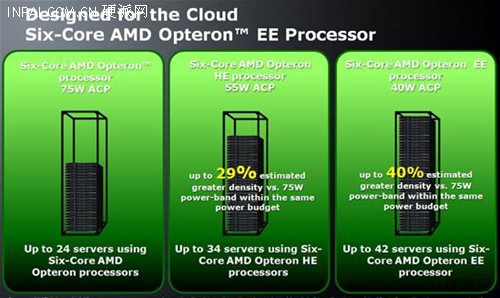 AMD's intended applications for this processor are in cloud computing, web servers and high-density computing environments. There are now 11 models in the Istanbul lineup: this EE 40W, two 105W SE models, five 75W standard models, and three 55W HE models.
This processor is a step towards energy saving in the server room, but its price may put it out of reach of many users.
Source :
INPAI