nVidia GeForce GTX460 1GB
Introduction

Priced at the mainstream price point of around €200-250, the GTX460 and the new chip at its heart, the GF104, are designed to broaden the appeal of the Fermi architecture to enthusiasts other than those with wallets the size of a small country. With 336SP (of the 384 in the chip) the card is also designed to be lighter on the wallet after it has been bought, in the form of lower power consumption than its bigger brothers.

Starting with first impressions: the box of the Twintech card we tested is not very impressive at all! It is very small compared to most GPU boxes, although very colourful, and covered in a kind of plastic that makes it seem freeze dried. First impressions of the card are lacking.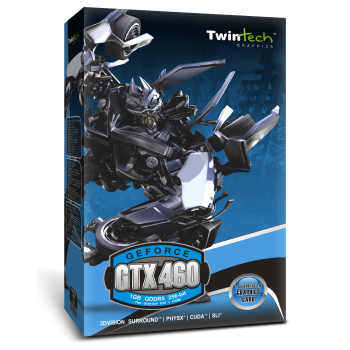 The bundle might have inspired more confidence in the card, but it too is very plain:


1 Molex - PCIe adaptor, for PCs using power supplies that lack the newer connector
1 DVI-I - VGA adaptor
1 applications CD
1 driver CD
The star attraction, a 12-page A5 manual translated into 12 languages (so one double-side page per language). With so little space every word counts, but Twintech still choose to give one quarter over to explaining the difference between PCI, AGP and PCIe slots. If you're reading this site then you can probably safely ignore this booklet


After this series of poor impressions we move onto the card itself.
The board package is very neat. A large cover protects against static in transit and proclaims:
"Power Virus Applications may cause abnormal voltage drop due to load line. It may exceed thermal capacity and cause thermal damage. Nvidia may not take RMAs of overheating due to power virus applications."
Thanks for the heads up, but we have yet to see any viruses that can cause graphics cards to spontaneously combust… an unusual warning if there ever was one.
Onto the card itself...

---