Comparison between linux kernels
Kernel, Kernel on the wall, who is the fairest of them all?

Sadly kernels cannot talk so we shall have to find out for ourselves which is the best!

Frodo decided to test one or two kernels after a fair number of users recently reported that our modified kernel did not improve performance. Frodo also decided to run the test on standard a2 WUs rather than bigadv WUs.

The following test kit was used for the test:

SuperMicro X8DAi
2x Xeon X5560 ES (2.8 Ghz)
6x2GB DDR3 ECC Crucial PC13333
Western Digital Raptor 150 GB
8800 GTS 512 MB



The tests were performed on a single unit from Project 2669. The same unit was used for all tests, and the best time from the first five frames was used to establish a time reference.


Ubuntu 9.04 Kernel 2.6.28-16-generic


So here we have the recently-compiled 2.6.28-16-generic kernel from ubuntu after a shaky start...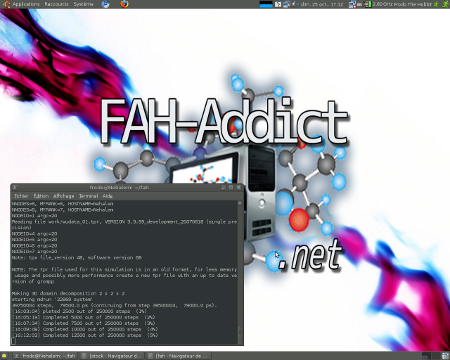 We have thus obtained the following results:

-smp 8: 2m 15s per frame for 12,288PPD
-smp 16: 1m 56s per frame for 14,325PPD

FAHAddictXeon64 kernel 2.6.28-10


So, now we turn to the FAHAddict kernel 2.6.18-10 as modified by Frodo.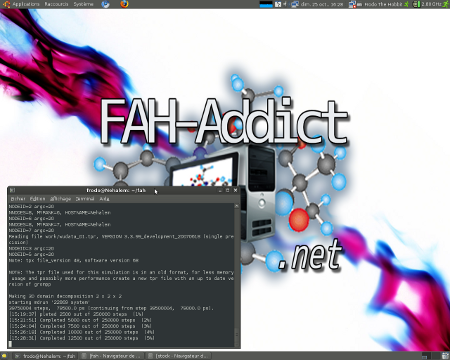 From this, we obtained the following results:

-smp 8: 2m 13s per frame for 12,454PPD
-smp 16: 1m 52s per frame for 14, 785PPD



The difference is small but it is there...
This represents a gain of 1.35% for -smp 8, but a bigger gain of 3.2% for -smp 16 (more than double). These kernels are clearly not designed for dual- or quad-core machines. However in the case of the bigadv units with the bonus, those few percentage points can earn you an extra 2000PPD without extra cost in terms of power consumption.


Ubuntu 9.10 kernel 2.6.31.5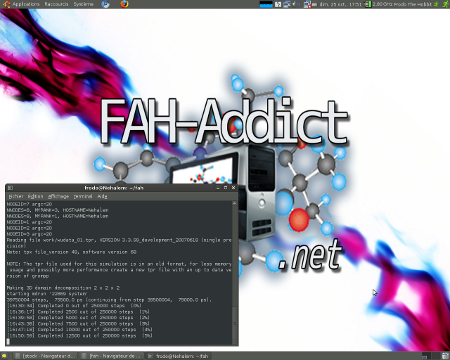 The time per frame for this core was catastrophic...

-smp 8: 3m 41s per frame for 7,513PPD
-smp 16:9m 38s per frame for 2,871PPD



This represents a fall of 40.7% and 80.6% respectively compared to the modified 2.6.28-10 kernel.

We advise you not to upgrade to 9.10 just yet, but will keep you informed of any future changes.
---